One software that I used frequently is FileZilla. It is a file-transfer client program, which allows me to transfer files to various websites of mine.
Typically many websites have a file-transfer server. And one can use a file-transfer client to tranfer files to to these website.
You can download the FileZilla client at its website
Here is the main screenshot of this program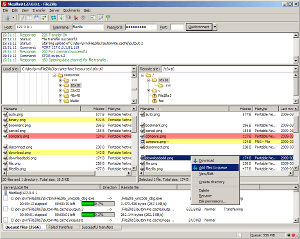 FileZilla Wiki has a lot of information about using this software: http://wiki.filezilla-project.org/Main_Page. Try to read the FAQ page.
Here is a demo that I created as a quick guide for the FileZilla client
There are multiple video tutorial about FileZilla on youtube.com. Here is one by MikeNKU on youtube.com http://www.youtube.com/watch?v=A-gr0LIWT64